A web based log on fly fishing for striped bass among other things
Ask me anything
February 26, 2012
Gettin ready for flats season
Na_Na_Na_Na-na-Na_Na
Na_Na_Na_Na_Na_NA
February 18, 2012
Not sure how I missed this. Nice one BOA
February 18, 2012
Where in the dong…
has Lo Fi gone?
It was a short 10 months ago that he started dropping digital jemz on the internet (proof positive that not everyone with a GOPro should be putting up videos and a few should be doing a lot more) and more than a month since we've last heard from him. Last word he was headed to the land of Pho and Dong.
Maybe he succumbed to a wicked ladyboy habit;
a crippling heroin habit;
found some sort of undiscovered fly fishing mecca;
or maybe he finally found a suitable environment to start his unicorn ranch
What ever the case, God speed you crazy diamond.
October 3, 2011
Awesome video from Capt Chris Newsome. Hot Indian Summer action from the lower Chesapeake featuring Brad and Sue and some sweet striper topwater action.
October 2, 2011
Peek-a-boo I see you.
September 26, 2011
Trip Report: Red House
Hola Amigos. Just got back from a most excellent trip to Martha's Vineyard, well it would have been most excellent if I had caught more fish. So let's just leave it at "excellent"
I am really starting to identify with my home town heros, the Baltimore Orioles. Can't seem to get it together to be in the right place at the right time. 
I got to tag along with Mrs. Murray while she photographed our friend's nuptials. The wedding was pretty great but my focus was elsewhere.
photo by Mrs. Murray
Before I left for the island I called in for some expert advice from a local hero on how to land an albie from shore and was told, find a likely spot and, "blind cast your face off"
Over the course of the weekend I spent almost 20 hours blind casting for albies who never showed where promised. Assholes, obviously.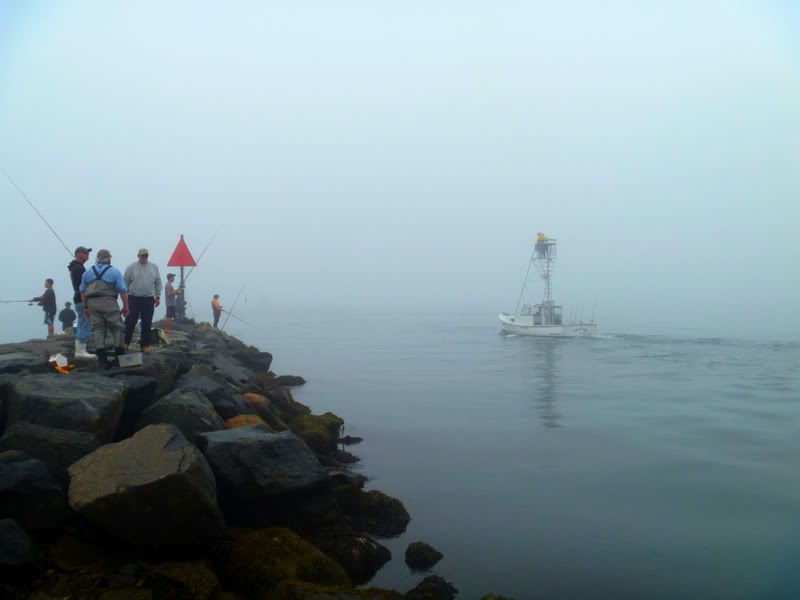 It being derby time, the likely spots were pretty crowded.
Side note: as Mrs. Murray and Dr. Devlin were dropping me off at the jetty, I saw a familiar face in the parking lot - none other than Bob Popovics in the mother fucking place to be, Martha's Vineyard, fishing the Derby. I said hello and made some fishing chatter; Mrs. Murray, never the one to turn down the chance to talk to strangers chimed in, only to be severely star struck later when I told her that the big man she was talking about "diffuse light" with was Mr. Pop Fleyes himself (he being the only fishing personality/celebrity she knows about).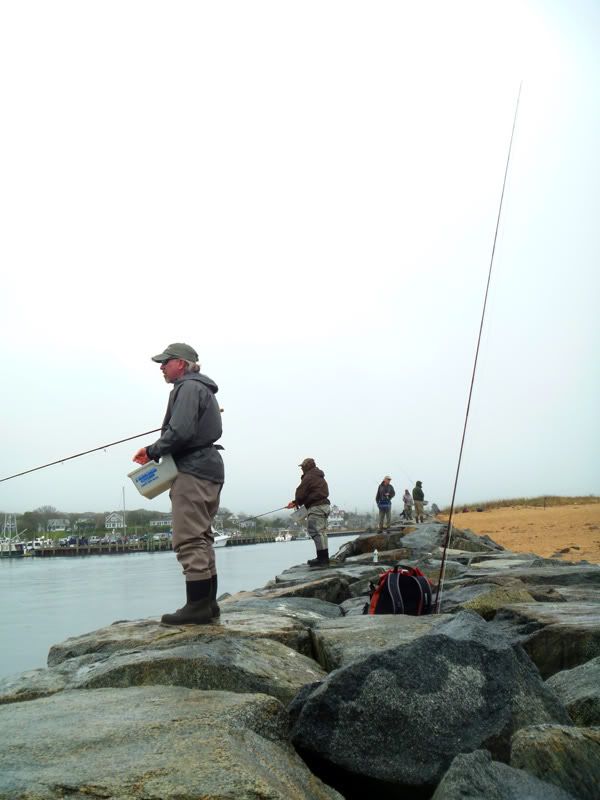 Seems that others were given the same advice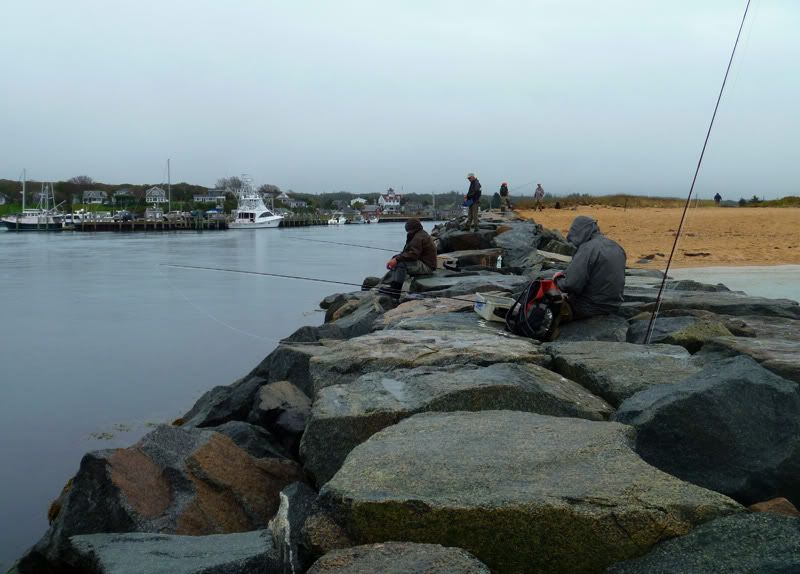 But even the hardcore get bored.
I thought musky and steelhead were supposed to be the fish of a thousand casts. At the rate I'm going albies are going to be up there too.
Never underestimate the continental breakfast 
Also spent a few hours fishing at night and only managed one semi-disabled bluefish.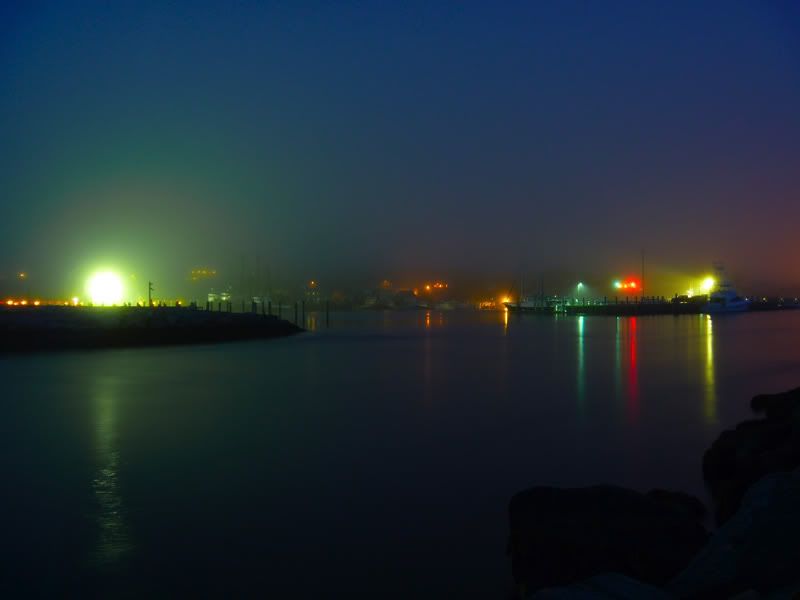 (30 second exposure)
This bluefish looks like Sling blade, no?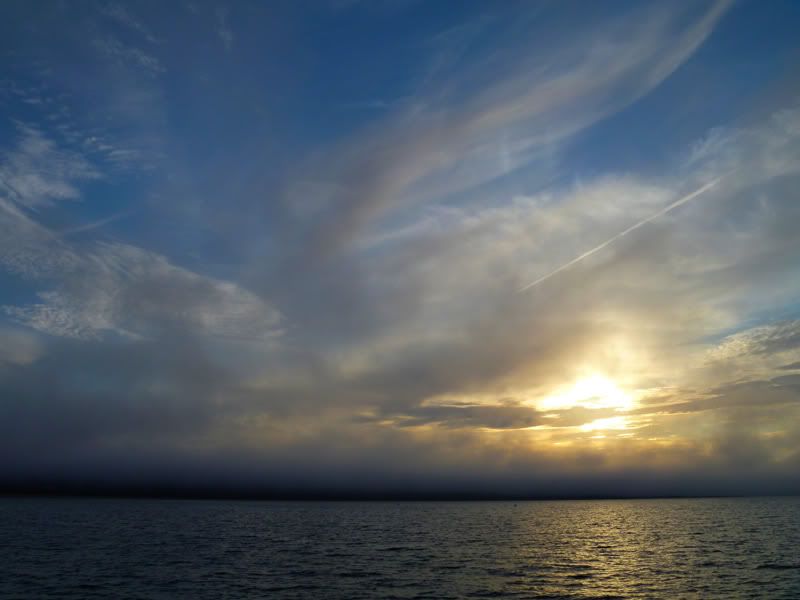 God damn it anyway. MV is a seriously beautiful place and I would move there in a heartbeat. If anyone knows a builder who is looking for a great PM with a fishing habit let me know.
September 21, 2011
Dudes who catch big fish
Two Saffa's catch golden bones inside Charm City limits. Way to go dudes.
September 18, 2011
Trip Report: Steppin' to the AM
Lately it's been all about the fishing and not so much about the catching. I put in some miles and hours this week and the only thing I stuck in the face was myself.
Albies are in season and I've been stacking my deck but some times even when the odds are with you you still lose.
Started off Friday morning with a half day charter in the NY Metro with BFD.
We were among the first few clients to ride in the Captain's new sled, a 31' Contender with twin Yammi 250s.
She does not fuck around, go slow, or give a shit about chop. Sorry no good pics.
Sunrise over JFK airport.
We saw one pod of albies early in a massive melee of alligator blues feeding on adult bunker. There was not enough small bait to hold the funny fish but there was an ass load of bunker and the blues were all over them like stink on shit. There were feeding fish as far as the eye could see East and West from 6:30 until we had to head to the barn around 11:00.
This was some seriously frustrating fishing. The wind was not insurmountable but definitely fresh, we were throwing 10wts with heavy sinking lines with half a chicken and a full deer tail lashed to 10/0 bait hooks (guide flies aren't pretty flies). With so much large bait in the water we could not stick one. I did hook up but lost it immediately, bit off above the wire. 
The captain did get one to the boat jigging the spinning rod.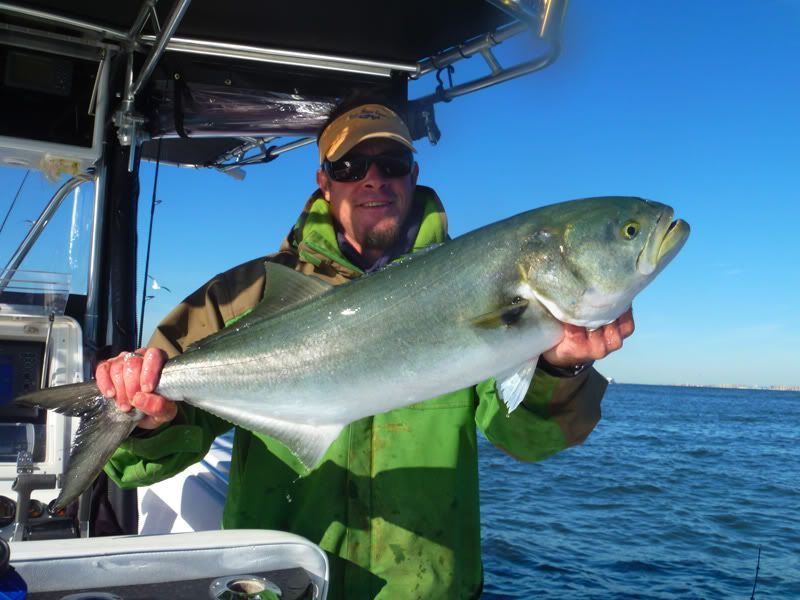 It was pretty nice to see the sun rise from the water and definitely an enjoyable 60 mile boat ride, but the work calls started pouring in so we had to pack it in. Of course I got an email that afternoon that the fish showed 2 hours after we left.
Saturday was a shot at redemption. 
Planned to fish the incoming tide down the island at a spot that had reports of fish earlier in the week. 
Nice thing about leaving the house just after the bars close is that the roads are pretty empty.
Conditions were lining up for a really nice day. Nip in the air, NNE breeze 6-10, bright sun and clear water.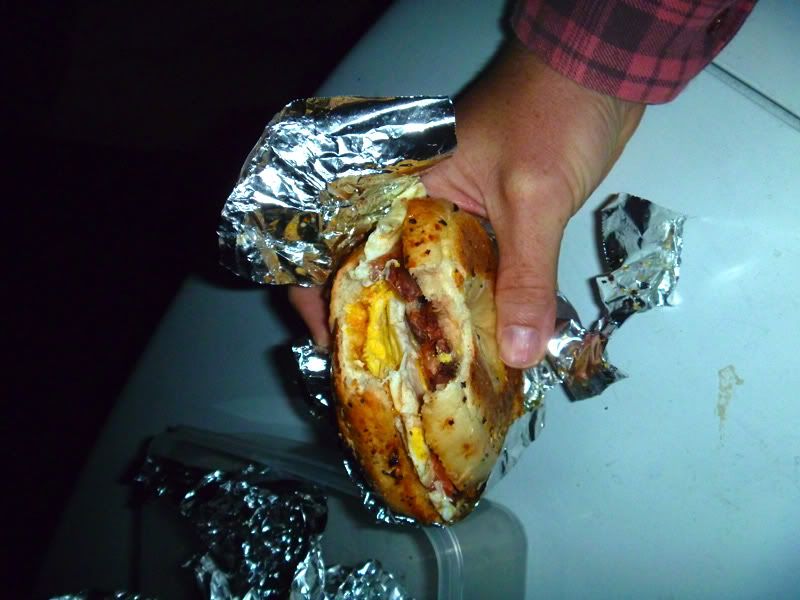 Eggs bacon and tomatoes to fuel the fishing machine.
This jetty is steep and high and at low tide it can be pretty tricky to keep your line out of the rocks. The extra long rod is a real advantage, and booming lasers help to.
Since this is a well known spot, it was a Saturday, it's Fall, and there had been reports of fish around, it was borderline crowded. Now I don't know about, you but I have never seen a fisherman catch a fish while standing with his rod in his hand talking. So many guys out there just showed up to yack, cast for 20 minutes, then when the fish didn't show as predicted they went right back to talking. Why'd you even come out? You just like carrying all that stuff around, huh?
I digress. While the knitting circle was busy spinning yarns about the thousands of albies they caught, I was trying to increase my CPM (casts per minute): you aren't catching shit if your fly's not in the water.
Here comes the part were I finally stick something in the face. The NNE wind meant that it was coming ever so slightly over my casting shoulder. I was overhand casting with the two-hander, throwing a 550 grain intermediate line with tiny little conehead bunny fly. Two casts in a row I hear a "ding" as my fly hits my water bottle that sits in the outside pocket of my backpack on my left hip, not a good sign. I guess I heard the sound of the fly line wrapping itself around me before I heard and felt the pop of the cone head hitting me square in the eyeball.
I am one lucky fucker. If that hook had been one millimeter in any other direction, I might be wearing an eye patch right now. I reached up to touch my eye and felt the fly, which came loose as soon as I touched it. I'm undoing all the knots and doing my best to free the loops of my line which is now being washed in and among the rocks, and I reach up to wipe my eye, and my hand comes away covered in blood. A second wipe shows no more sign of blood so I figure I'm in the clear. I put on my sunglasses and go back to fishing, throwing backhand.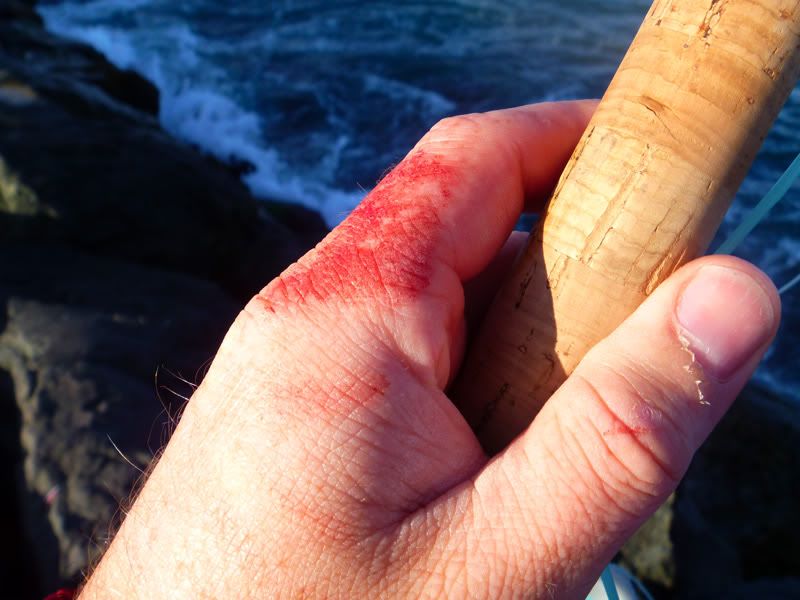 Fished out the incoming tide and took a beer break at 10:30. The tide was still not moving by 11:30 so we decided to pack it in. 
Got home in more than double the amount of time it took me to get out there. Later that evening I got another email from a friend with an image attached of an albie from that afternoon. They showed in good numbers on the outgoing. Guess they didn't get the memo.
September 12, 2011
Another great online mag. This issue has a good read on Montauk in the fall. Give it a read.
September 8, 2011
I think I would like fishing in the everglades